Hand Therapy Association of California Presents:
Mistakes - Don't make one - Learn from others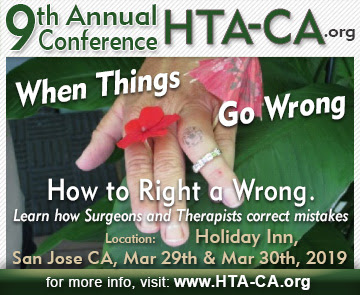 Learn from industry stalwarts, how to prevent mistakes and correct one if not done right, to provide the best functional outcome.
To become a member and get discounts, Click Here
To register for the 2019 Annual Conference Click here (2019 membership required for discounts)
Learn from the leaders in the profession, Surgeons and Therapists alike.
Don't miss it, as such a collection of speakers will not be seen elsewhere.
New segment - Poster Presentation. If you have an idea and want the world to know, then submit and abstract for poster presentation here and win $$
See who is speaking at this conference - Surgeons
Dr. Gregory Buncke on tendon management gone wrong, Dr. Jeffrey Yao (Stanford) on correcting surgical mistakes, Dr. Lisa Lattanza (UCSF) on making the unforgiving elbow compliant, Dr. Catherine Curtin (Stanford) on when wires cross, how to unbundle nerves and Dr. Roy Meals (UCLA) on when to trust the therapists to do the job and not be ready with the knife.
Join Us
15 Contact hours
See who is speaking at this conference - Therapists
Aviva Wolff (HSS) on how to be politically correct with the surgeons and flexor tendon management gone wrong and how to get it back on track.
Susan Clark (Stanford) will be talking on when to call it quits and tips and tricks on stiff hand management with Saba Kamal.
Silvio Tocco (Italy) on the hand gone rogue and tips and tricks from around the world,
Susan Stralka (PPM) on pain management and manual therapy for the elbow,
Lisa Green on the right moves for the shoulder.
Debbie Schwartz (Orfit) on custom splinting for elbow management,
Alison Taylor (Baylor) on Problem solve with taping and out of the box thinking,
Aaron Sciascia on how to review manuscripts and review articles and
Saba Kamal (HOC) will talk on wound management along with case studies for panel and brainstorming session.
President: Saba Kamal, OTR, CHT
Vice President: Lori Stotko, OTR, CHT
Secretary: Michelle Fabito, PT, CHT
Treasurer: Diane Coker, DPT, CHT
Ask our committee chairs a question:
Education
Karen Hanehan
, OTR, CHT
Membership:
Jeanne Harper
, OTR, CHT
Website:
Minnie Mao
, OTR
Abstract for Poster Presentation:
Stella Wang
, OTR, CHT
---